STEPHANSDOM / ELECTRIC CHURCH 2015 / LEGACY OF EVE
---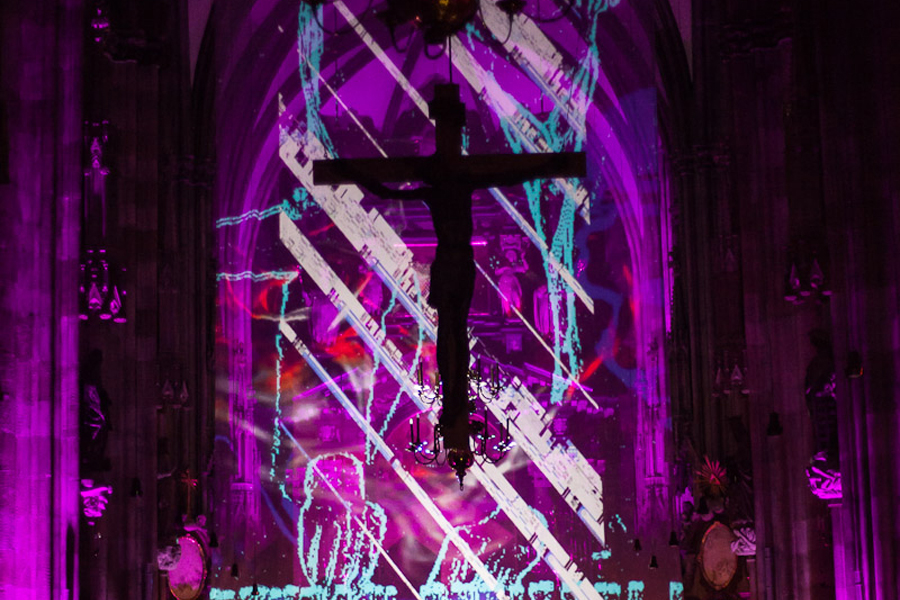 Stephansdom Wien – Premiere – LEGACY OF EVE
Domkirche St. Stephan
Stephansplatz 3
1010 Wien
Datum: 13. November 2015
Programm Stephansdom, 13.11.2015 »
Video Electric Church 2015 (Stephansdom Wien, November 2015)
Domkirche St. Stephan
Die Domkirche St. Stephan zu Wien, auch Stephansdom oder "Steffl" genannt, steht seit 1147 auf den Außenbezirken eines ehemaligen römischen Legionslagers. Seit dem 15. Jahrhundert Kathedrale und Bischofssitz gilt sie als eines der wichtigsten Wahrzeichen von Wien. Der 136 Meter hohe Südturm beherbergt 13 Glocken, die berühmte "Pummerin" allerdings, die zweitgrößte freischwingend geläutete Kirchenglocke Europas, hängt im Nordturm, der niemals fertig gestellt wurde und nur 68 Meter hoch ist. Ebenfalls sehenswert sind die prachtvolle Kanzel aus Kalksandstein mit dem berühmten "Fenstergucker", das mit 230.000 Schindeln besetzte Dach, das den Wappenadler weithin sichtbar präsentiert und das romanische Hauptportal auf der Westseite des Domes. Seit 2012 wird auch der "Domschatz" wieder öffentlich ausgestellt, der sich aus kunstvoll mit Goldplatten und Edelsteinen verzierte Reliquien, Monstranzen, sowie handgeschriebenen liturgischen Texten, Büchern, Bildern und reich mit Goldfäden bestickten Gewändern zusammensetzt. Die Electric Church nutzt nutzt das gesamte Raumvolumen des Domes für ihre außergewöhnliche Show.
Electric Church Legacy of Eve Stephansdom
Electric Church Legacy of Eve Stephansdom
LEGACY OF EVE
STARKE FRAUEN GIBT ES SEIT MENSCHENGEDENKEN.
Diese Geschichte erzählt von Bath, einem Flüchtlingsmädchen unserer Zeit, die versucht, sich dem Schulalltag in ihrer neuen Heimat anzupassen.
Aber sie stößt überall auf Ablehnung. Trost und immer wieder neue Kraft findet sie in einem alten Buch, das die Geschichte starker Frauengestalten in der Bibel erzählt, die ähnliche Situationen durchlebt und bewältigt haben.
Die positiven wie negative Eigenschaften dieser Frauen helfen Ihr Lehren für Ihr Leben zu finden. Am Ende des Buches liest sie eine Widmung:" In Liebe, deine Mutter. Eva"
Songs
1. Just like you
Königin Ester lernt, sich einem fremden religiösen Umfeld anzupassen und rettet so ihr jüdisches Volk vor der Vernichtung.
2. Don't look back
Lot und dessen Familie werden von zwei Engeln aus Sodom gerettet. Einzige Bedingung: Sie dürfen nicht auf die Stadt zurückblicken. Lots Frau missachtet dies und erstarrt zur Salzsäule.
3. Mine
Nach dem Tod des Königs von Juda regiert dessen Witwe Atalja mit eiserner Hand, schaltet alle potenziellen Rivalen aus und duldet keine andere Meinung. Letztendlich wird Atalja sebst hingerichtet.
4. Seduction
Da ihre bisherigen Ehen kinderlos blieben, sucht und findet Tamar eine Möglichkeit, dies zu ändern. Durch eine List verführt Sie als Prostituierte Juda und gebärt dadurch Zwillinge, die im Stammbaum zu Jesu gehören.
5. Stronger than you
Trotz zahlreicher Verfehlungen (Untreue, fehlender Glaube an Jahwe) weicht Pinehas Frau nicht von ihrem Glauben ab und bleibt treu und ergeben an seiner Seite.
6. Bathseba
Während ihr Mann Urija Krieg führt, wird die wunderschöne Bathseba von König David so dermassen begehrt und bewundert, dass David veranlasst, dass Urija im Kampf fällt. Er heiratet Bathseba, die damit zur Königin wird. Ihr gemeinsamer Sohn Salomon ist ein weiterer Vorfahr Jesu.
7. Home
Nach dem Tod ihres Mannes zieht Ruth mit ihrer ebenfalls verwitweten Schwiegermutter nach Israel, obwohl sie dort in einem fremden Land mit Zurückweisung rechnen muss.
8. Debora
Debora ist eine weise Richterin und Prophetin. Im Auftrag Gottes weist sie Barak dazu an, mit 10.000 Männern in den Krieg zu ziehen. Sie begleitet dieses Heer und die Israeliten siegen durch ihre Hilfe.
9. Loosing my head
Als die Isrealiten von den Assyrern angegriffen werden, macht sich die glaubensstarke Judit zu deren General auf. Judit betört ihn mit ihrer Schönheit und bei einem Fest zu ihren Ehren, köpft sie den betrunkenen General. Damit rettet sie ihr Volk.
10. Jericho
Rahab versteckt zwei israelitische Soldaten in ihrem Haus in Jericho. Beim darauffolgenden Massaker wird die gesamte Stadt zerstört, lediglich Rahabs Haus bleibt verschont. Durch ihr mutiges Handeln wurde Sie eine Stammmutter Jesu.
Musiker
Sergio Manoel FLORES
Lyrics & Musikalische Leitung
Musikproduktion
Lisa Marie FEDERIC
Gesang
Saskia GRADWOHL
Gesang
Cesar SAMPSON
Gesang
Thomas KUGI
Saxophon
Willi LANGER
Bass
Stefan HELIGE
Gitarre
Magdalena WIECKOWSKA
Barbara DE MENEZES GALANTE
Klaudia SCHOEN-PIGISCH
Violine
Jakyoung KIM
Andreas KAUFMANN
Bratsche
Manuel SCHAGER
Cello
Unterstützt von Chorgesang und Kirchenorgel
Julia KATHARINA
Tanz & Choreographie
Katharina HOLOUBEK
Die Stimme von Bath
Hemma CLEMENTI
Die Stimme der Mutter
Patrick KUMMENEKER
Audio / Tontechnik
Florian WEBER
Lukas VIRITS
Stefan KUGLER
Raphael RUPPRECHT
Concept Solution
Sound & Licht / Technik
Eva Bischof & Gerald Herlbauer
Live Visuals, Projektion: 4YOUREYE
---